Buying better: tackling climate change through procurement
Prestigious grant award funds next generation Artificial Intelligence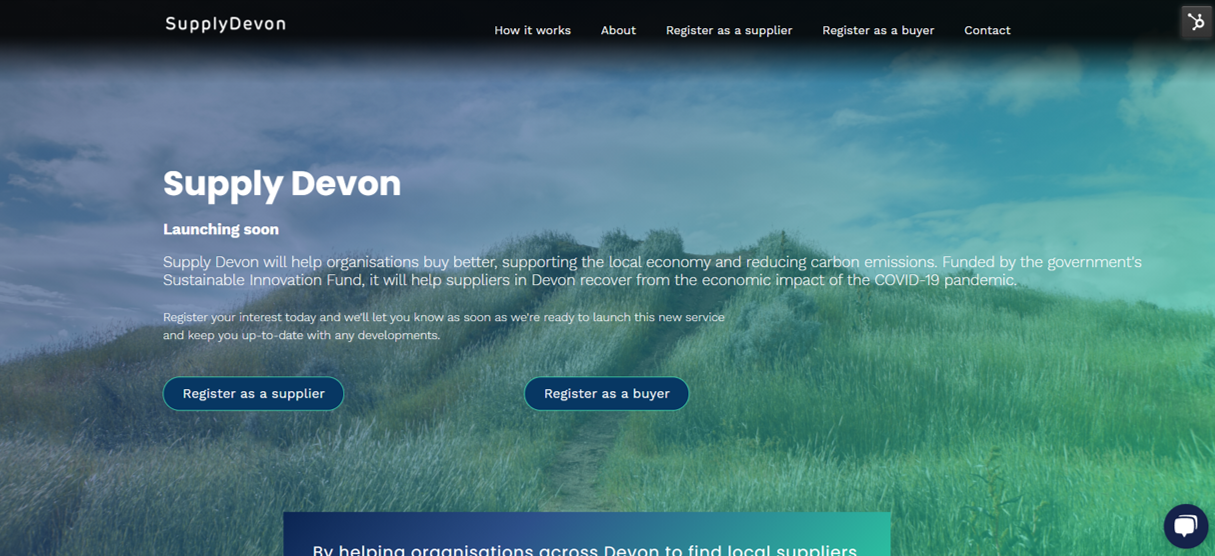 Tackling climate change, racial and sex discrimination, and the economic impact of COVID-19 all at the same time may sound like a pretty tall order, but thanks to a major grant from the UK government's Sustainable Innovation Fund that's exactly what a team led by Applegate are setting out to do.
Announced by the Business Secretary today, 'Supply Devon' a collaboration between Barnstaple-based Applegate, software developer Ghyston and the University of Exeter will create an online system for, initially, Devon-based organisations to find local suppliers. The quarter of a million pound project is being funded by Innovate UK, the UK's innovation agency, enabling the service to be provided for free to buyers and suppliers alike.
Organisations such as councils, universities, charities and businesses are invariably keen to support their communities, not least by buying from local suppliers. Keeping the money spent in the area helps to create jobs and strengthen the economy – more important than ever with the challenges caused by the COVID-19 pandemic. Where goods and services can be sourced from nearby firms, it also saves the carbon emissions caused by unnecessarily transporting products and people long distances.
It can be a challenge, though to find local suppliers: that's the problem that Supply Devon aims to solve. Suppliers from Devon, Plymouth and Torbay can register for free at supplydevon.org, and when live the system will use Artificial Intelligence (AI) to match suppliers to buyers' requests. In a cutting-edge development, the AI is being taught to behave ethically, ensuring it doesn't learn bad habits of racial or sex discrimination.
Ian Campbell, the Executive Chair of Innovate UK, has commented on the project. "Our Sustainable Innovation Fund is designed to help the UK economy recover from COVID-19, whilst contributing to the additional huge challenge of climate change. I'm delighted to see Supply Devon's novel approach to meeting these goals, developing leading edge technology to achieve them. With the lead partner, Applegate, located in an Assisted Area in a coastal community, this also illustrates that businesses in any location can find success with Innovate UK. I'd encourage more companies from the South West and across the country to explore what working with us can do for them."
At the University of Exeter both the Centre for Energy and the Environment and the Institute of Data Science and Artificial Intelligence are working on the project. "I am delighted that the University will play such a key role in this crucial regional scheme," said Vice Chancellor, Professor Lisa Roberts. "Artificial Intelligence and Data Science offer new and innovative solutions to some of today's most pressing problems. By working in partnership with Applegate and Ghyston, the University will play a key role in boosting the economy in the region, at a time when the COVID crisis has had such a detrimental impact on so many businesses, but also do so in a way that helps protect the environment".
Better buying is a theme on which Applegate is increasingly focused: helping organisations to find better suppliers, optimise their spending, support their communities, tackle discrimination and benefit the environment.